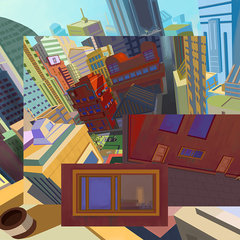 Michael Verweij
World builder [-Visual Development/Environment artist-]
Rotterdam, Netherlands
Summary
- Experience to succesfully convey ideas into a high quality visual concept.
- Experience in writing and telling a story, and sucessfully translate them into a moving storyboard or series of concepts.
- Experience in creating a high quality image while working in a professional environment with a tight time-schedule.
- Experience in quick experiments to search for the right design approach with practical and appliable results.
Vision (personal work):
When working on my own personal projects i like to see myself as a researching Illustrator. I explore how tension can be created and a story can be told by using contemporary Visual instruments. How society works and our collective vision on this society form a big source of inspiration for my personal work. In addition, my love for games and videogames allows me to search for subjects, atmospheres and moods that don`t necessarely need to be realistic.
Skills
Digital Painting
Illustration
Painting
Drawing
Color Management
Software proficiency
Experience
2d Artist at Artking Studio Internship

Sittard, Netherlands

September 2014 - February 2015

During my amazing time here, I mainly worked on creating hand painted character and environment assets in different styles. From realistic to very stylized. It was a great experience to develop additional technical skill that could fit in a professional environment and tight time-schedule.